uCertify Create
Full-fledged, highly interactive, and hands-on course creation platform .
uCertify CREATE is a full-fledged, highly interactive, and hands-on course creation platform. uCertify CREATE is a course development platform that is used to develop highly interactive, and hands-on courses. Course developers have the ability to either from the ground up or start with a textbook and deliver an interactive and hands-on course, complete with interactive lessons, videos, knowledge checks, hands-on labs, test prep, glossaries, flashcards, and assessments. It offers the flexible import of epubs, docs, and xmls, and provides developers the ability to convert a textbook into a comprehensive course which saves significant time and effort.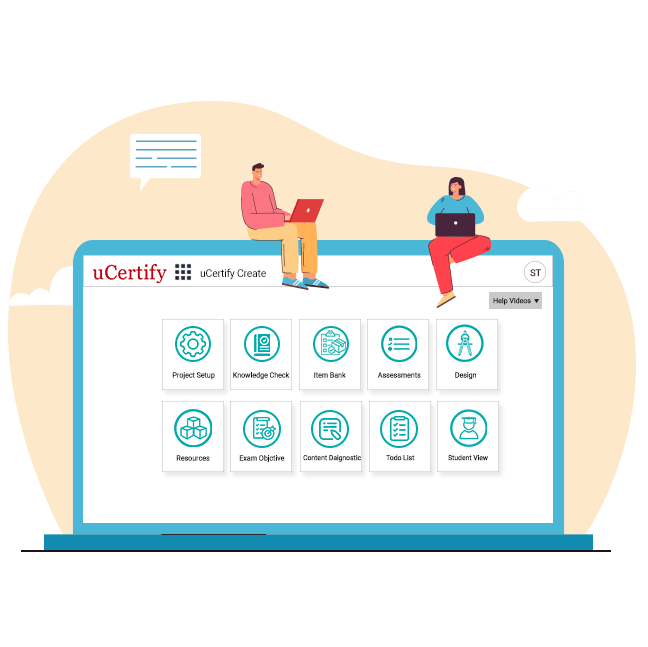 uCertify Create
uCertify CREATE comes complete with an Item Editor to author over 50 interactive item types. Such items can be used to create knowledge checks, quizzes, test prep and assessments. uCertify CREATE has made the course creation process easier for authors. They can update any course as per the changed exam objectives and it will be reflected in the course in no time. It also helps our users who can see the updated sections in the courses they are already enrolled in. Authors can effortlessly publish courses for both Web and Smartphone apps using Apple iOS (iPhone) and Google Android without any modifications. uCertify CREATE supports seven types of labs and simulators. Courses created with uCertify CREATE are ADA compliant. A number of Diagnostic Tools ensure high quality of the courses.
In uCertify, it is possible to clone a course, modify it (by adding, updating, and deleting content) and publish it as a new course. System is intelligent enough to intelligently do version control - for example a typo is fixed across all versions of the course, however any changes to the course structure does not impact other copies.
uCertify CREATE features
Web based - anytime, any where, anywhere
Roles definitions and workflow
Project management, inbox and todo lists
Comments and action items
One tool to create
Lessons
Assessments
Flashcards
TestPrep
Labs
Write once, use on any device (including iOS and Android)
Multiple missions – Lessons, Labs, TestPrep, Assessments
Gamified, Interactive and Hands-On
Context sensitive side panes
uCertify CREATE features
Deliver instructor-led, mentor guided, self-paced training
What You See Is What You Get (WYSIWYG) Item Editor
Extensive Help System
Clear and easy to understand icons throughout the platform
Consistent navigation elements
Responsive design - Fits available screen area
Every action is three clicks or less
PrepEngine
50+ item types
Virtual labs
Cloud Lab
CodingLab
Math Lab
Hardware simulations
Software Simulations